Fully Automatic Organic Waste Converter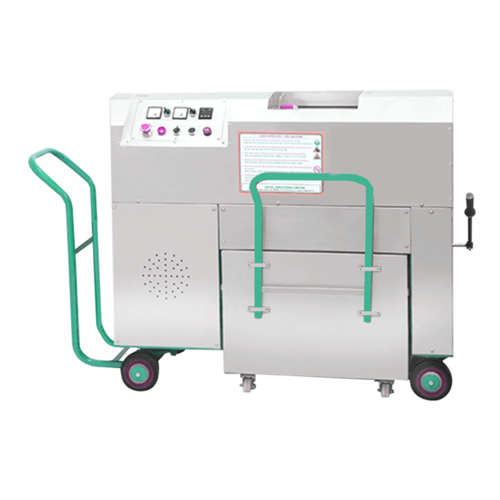 Fully Automatic Organic Waste Converter
Product Code : TZ-240
Brand Name : Zuci Fem Care
Fully Automatic Organic Waste Converter that we are offering is widely used in the industries and commercial places. This equipment is basically designed to incinerate organic waste such as food, biodegradable waste, garden and lawn clippings, etc. This waste converter is a robust machine. The machine is designed and developed in our ultra-advanced production division. It does not degrade in quality due to corrosion and rust, due to its robust and rugged construction. Fully Automatic Organic Waste Converter is available to us in various technical configurations.

INTRODUCTION:
Aesthetic Design :

Designed To Please Aesthetic Appeals.

Small Foot Print :

Less Than A Single Car Park For A 250 kg Unit That Caters To 500 + Apartments/houses.

Big Foot Print :

A Single Car Park one on the other For A 250 kg above Unit That Caters To 1000 + Apartments/houses.

Reduced Labor Cost :

Part Time Labor Requirement Reduces Ongoing Costs.

Safe Handling :

No Pathogens Due To Operations In High Temperature Thereby Reducing Health Risks Significantly.

Reduced Recycle Time :

Waste To Output Duration Is 1-3 Days Vis-a-vis Traditional Composting Methods that Require About 2 To 3 Months.

Reduced Transport Costs :

In-situ Processing Eliminates Transport Costs.

Hassle Free Operation :

No Multi-step Process. Provide the Input, Plug & Play.

No Recurring Costs:

No Refurbishing Of Bio-catalysts And Saw Dust. Our Machines Are Provisioned With It.

Rodent Proof :

Designed To Keep Rodents At Bay.

Non-odourous :

Cleanest With Negligible Odour.

Long Term Solution :

25-30 Years Lifespan.

Maintenance/Support :

Warranties And Amcs To Ensure 24×7, 365 Days Of Uninterrupted Operation.
TECHNICAL SPECIFICATION:
OPERATION:

Fully Autometic

OUTPUT:

Soil Conditioner/high calorific input for briquettes and pellets.

INSTALLATION:

Almost plug and play. Vent to be connected outdoors or strom water lines.No need of Water inlet. Water may be required, only to clean the machine externals and any spilled waste.

CONTROL SYSTEMS:

PLC Based-HMI is a(Variant)

COMPOSTING TANK:

SS

HOUSING:

M.S. with Powder Coating or SS panels as a Variant

INPUT/OUTPUT:

Door for Waste input, Separate door for getting out Compost

HEATER:

Insulated Oil heating Chamber or Heating pads as a Variant
Contact Details
Zuci Fem Care Solutions


Waste management
57, 7th Main, T Block, Bhavani HSBC, Banagiri Layout, Bengaluru - 560085, Karnataka, India
Ms Nisha Nazre (Proprietor)